Fitting the Trevor Taylor FXtreme Sports Exhaust System onto my 99 MGF MPi
MGF-Live 1
Auspuffsound FXtreme bei Beschleunigung 80 auf 160
0.4 MB MPG
MGF-Live 2
Auspuffsound FXtreme im Stand
0.3MB MPG
23.11.2000:
Work was done in November 2000, when the car had 44' km on the clock. I've visited my favorite tuner to get the things done, Autohaus Winterholler in Dachau near the city of Munich, Germany.
It was in total a consumption of 1 hour of worktime to get the exhaust fitted, including the removal of the original system. The system fits on the original mounting points, all we needed to do was to drill two holes into the heatershield because the hooks go from inside to outside instead of from outside to inside like the original system does.
I've paid all in all 411,25 GBP for the FXtreme system, inc. shipping to Germany and VAT, which equals DM 1.350.--.
The system is finished in stainless steel all over, except the chrome rear-ends, which can easily be replaced.
When we finished fitting, we didn't trust what we heard, the sound is excellent, a deep deep rich sound. It for sure is louder than the original system, but I didn't have any problems after driving highspeed on the highway..means I wasn't annoyed by the sound. One thing there is to mention...I also have equipped a PIPERCROSS airfilter...you dont hear the filtersound anymore *g*. All in all I've never heard a better sound on a MGF, especially because the exhaust morelikely sounds like if you are listening to a V6-engine. (for the german friends: Es BLUBBERT!!! *g*)
30.11.2000 - Here we go with the experience after one week of driving with the FXtreme equipped:
Sound became louder, an ever existing "roaring" accompanies the driver at all speeds and, except at 4500 RPM, over the whole range of RPM. On shifting down or decreasing speed, the exhaust has the typical sound of "gunshots". It now really IS loud and i start to try shifting gear early to avoid getting headaches. If it keeps getting louder i will have to wear earplugs (thats no joke). All the description is the sound as heard from INSIDE the car, with closed cover. Listening to the sound from outside the car is, as I was told by some people, excellent. I will remove the PIPERCROSS airfilter just to check if the sounds, when both is equipped, do interfere.

06.12.2000 - Another experince
On removing the PIPERCROSS airfilter the sound is much more comfortable. It really was a reasonance compounding, as mentioned by 30.Nov.2000. Thanks to Dieter for being to the BBS and to Rob for this hint which proofed my opinion true. I littered the earplugs now *g*

Cilck the pictures to see them fullsize - each opens in a new window.

KAT-screws after 44Tkm

removed original exhaust, only KAT is left and loosened heatshield

unscrewed fixing of the original exhaust right side

fixing right side of original exhaust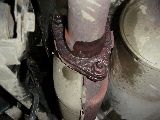 rust removal on KAT-screws

greasing the fixing strap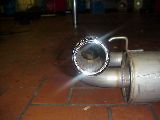 tailview, chromepart is fixed by 2 screws