PRT Thermostat MGF / MGTF
PEM000020 Housing Thermostat
PCH002970 Hose Assembly
PCH002490 Hose - bypass to heater coolant
PCH002500 Hose - expansion tank coolant
PCH003320 Hose assembly
Parts required listed in the EPC under
Pipes and Hoses & Thermostat
other similar water system mods
Email from Jon in spring:
I have now completed my PRT conversion. I chose to fit the thermostat housing horizontally, which I found was the easiest way as i did not have the OE MGF hoses. I bought a Land Rover Freelander conversion kit, using the T-piece and cut the hoses to fit. The view on enclosed image is from below/rear/rh side.
So far I have driven some 200km after the conversion was done. It works very well - now the warm-up time is back to what it used to be before i fitted the drilled 82deg thermostat. The heater also works OK.
Regards Jon, Norway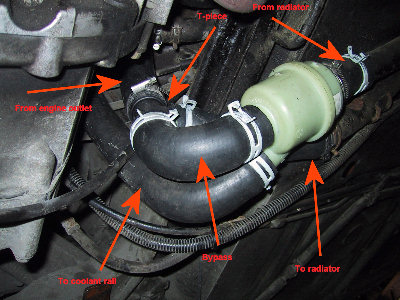 back or to my MGF home site www.MGFcar.de